Most of my adult life has been spent working in corporate America. I've held responsible full-time positions and had successful careers in two different industries.
Now, I'm doing something completely different.
Unexpected circumstances led me to leave my job late last year.  I really wasn't sure what to do next.  I didn't  choose either of the two fields I previously worked in — with both I more or less landed in them .  So at the start of 2018, I find myself with a blank slate and a unique opportunity to decide what to do with myself.
With support and encouragement from the man who is my best friend, husband, and soulmate, I've decided to focus on my creative passions and BE AN ARTIST.  Not just on the sidelines or as a hobby that I can barely made time for.  But as my life calling and full-time "job."
So here I am.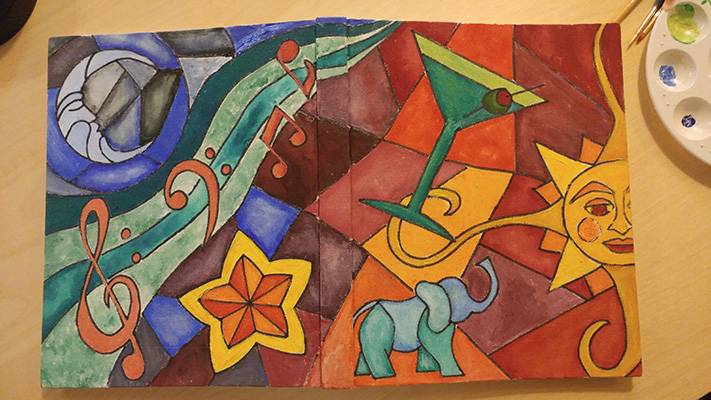 To commemorate my new direction, I painted this sketchbook cover.  It began as a blank white canvas – much like my life's blank slate.  The images in the stained glass all reflect a little bit of me.
Malinee rhymes with "martini."
Sun, moon, stars: these celestial bodies are a theme that run through my life, particularly in my relationship with my hubby.  (See the picture of our matching sun & moon infinity tattoos.)
I love elephants!
Music is one of my creative passions.  As an active (amateur) musician, I sing and play flute and guitar.
The sketchbook is symbolic of my "new" life as an artist, and it will definitely be part of my journey.  I'm not sure exactly where life will take me, but I'm looking forward to the adventure!